Hello! I didn't take any pictures this week so I'm getting creative with the images. I hope you like memes. I sure do.
First off, happy birthday to me :) Cheers to being 25 today!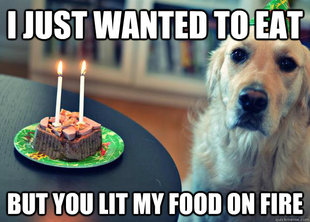 Just doing a quick recap of "training" efforts this week. Welllllp, i didn't run. not one mile. Oops. Work this week was a total exhausting nightmare. A bunch of my team was either out sick or traveling, and I had to help train a new guy and work to meet a couple important deadlines. I left for JP every morning before the sun and got home every night welllll after the sun set... and then tackled computer work until I couldn't see straight. Oh well, excuses are lame. I didn't run and that's that.
But I DID continue with my crossfit on ramp class. First I just have to say, I really truly love crossfit. It's quick, its intense, and every workout makes you feel like a total badass.
Heh.
I always knew people got totally sucked into crossfit but the on ramp class at Commonwealth Crossfit really has been amazing. Each class goes ~an hour and a half. The first 15-20 is a warm up (stretches, jump rope, etc), then we work on new skills and techniques. Then we do the WOD (workout of the day) which takes about 15ish minutes, then we stretch. In the past 2 weeks we've gone over everything from double unders to handstand pushups to box jumps to burpees. This week was all about practicing form of the various lifting moves (dead lifts, power presses, front squats, back squats, clean jerks, thrusters, etc). For each, we'd start practicing good technique with a PVC pipe, then on to a light 35 lb bar, then we'd scale up to do an actual workout.
Today's workout looked simple enough, but my arms and legs were jelly afterwards.
50 double unders (or modifiy at 150 singles)
40 front squats
30 walking lunges holding 25 lb weight overhead
20 hang cleans
10 power presses
I kept the weight light at the 35 lb bar for the front squats, hang cleans, and power presses because I really want to focus on my form, especially during this on ramp course. I'm also getting pretty good at double unders, though I didn't do the prescribed 50 (did about 10 then did 130 singles, not sure if I'm supposed to mess around with the workout like that but oh well).
I was actually the first person to finish in the class (time 11:33), but that just made me feel like I didn't push the weight high enough. Crossfit's a funny thing. There's always something to work towards, whether it's faster or heavier. Now I get what people were saying when they said Crossfit makes lifters better runners and runners better lifters.
Even though the weight was pretty low, I pushed hard to speed and was totally spent afterwards. Big pat on the back for working out on my birthday (especially after a beer filled Friday night last night).
Now it's time to get ready for Bill's company xmas party. I hope our neighbors like Ke$ha because there will be a lot of that playing around the house in the next hour.It's my birthday, i do what i want!